There is so much I could share with you and so many words I could say. Yet Silence perhaps is the best gift I could give you all for the New Earth Year. …..Because it is now time for each of you to listen to ourselves…. Listen to our Hearts…. Each of you knows within our BEing what feels right and what feels wrong… You all know deep within your being what has occurred throughout this past year. No one but yourselves know the pain or heartache, that you yourselves have witnessed as events unfurled, and still are unfurling in and around your own personal world. For together we have watched our Sovereignty, our freedoms, our liberties, our choices, business's on our high streets and towns close. We have seen our education systems stopped in their tracks, and the very thing God gave us… The right to breathe systematically disappear as life as we know it, has changed drastically for the whole world.
The white rabbit and his appearance to you symbolize the letting go of fears, ideas, and as a message to drop the seriousness of life. He also illuminates paradoxes and distortions of reality, helping you to lighten up. White symbolizes a burning up and a purification of these fears into a lighter path.

Quote from Amanda Linette Meder Blog site here
To join the dots you have to have more than one, and then draw the line between them… Many people cannot handle more than one dot at a time… Have you noticed that this year?……  I have been joining dots for over 30 years and once to join them, you begin to see the bigger pattern immerge. You begin to see the Rabbit as it runs down its hole… You have to have many dots, with many numbers and draw many lines between them in order for you to see the bigger picture emerge.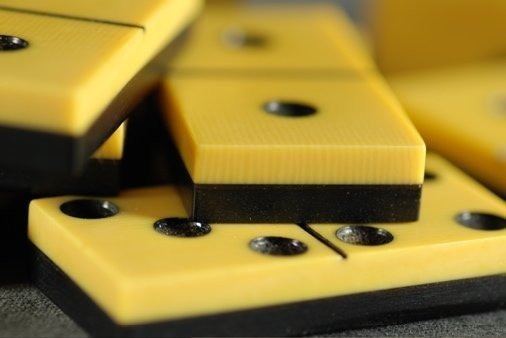 When I was a young child I would love to play Dominoes with my Grandad. Joining up the numbered Dots end to end, knocking on the table when you couldn't make a move. I would get frustrated when that happened as I had to dib into the 'boneyard' the pile in the middle as my dominoes numbers grew and grew, while my Grandad placed his to win.
Another game I would love to play with my box of dominoes was to line them all up in equal spaces and push the first one over to watch the rest topple over.. You have to remember dear friends, that we are living within a Game, an Illusion through which we experience. What you experience depends upon which game you are engaged in. It may appear Dark outside your front door right now. But I want each of you to know, the light is what matters, And the LIGHT comes from within.
So Stand tall, you may be feeling like a separate dot on a lonesome domino Standing All Alone, but the game cannot be played unless you dear friends join in… I feel 2021 will herald in many Warriors standing shoulder to shoulder and remember it sometimes only takes ONE Domino to push against all the rest to send them all toppling.
I wrote this Poem below on May 2nd 2017.. It came during the night, as I had to sit up and 'listen' as the words wrote themselves… I Felt their message needed to be shared here once again.
Have you listened to the Silence?
The symphony of the stars
Can you hear the music beat within our Earth Mothers Heart?
It's Time: Time to join the orchestra of her Song
And sing the long-forgotten notes of Dreamers
Be not afraid of standing alone and singing solo
For we are many joining in Harmony
Standing up in Unity of our forgotten heritage
Remembering the tune which has been deeply buried and obscured
We now open our hearts, finding our voices
To sing the forgotten Truth
Have you Listened to the Silence?
Has it not touched your heart
Illuminating your soul as the layers fall away
Revealing who we've always been
And who we are to become
Can you not feel the vibration?
Stirring those strands of your DNA
Do you not feel your molecular rivers?
Flowing within the molten heart of Compassion
Use your breath, as you breathe deeper into the New Dawn upon your Horizon
See how the Golden Glow of unification of open hearts dissolves the shadows of fear
Its Time: Time to awaken, tune up the instruments that you are
For you are each an integral part within the orchestra of life
Its Time: Time to play the melody you came here to Sing
So, open your hearts to the love your Earth Mother has always given
For each breath, she gave you
Every sip of water Sprang forth from her springs
Each seed she grew to nourish you
Every forest she gave for shelter, food and warmth
So, listen to the Silence……………..
For our Earth Mother is calling us to remember your Ancient Ancestry
For we are not separate…… WE ARE ONE
Have you Listened?
And did you Hear her Song?
© Sue Dreamwalker 2017
Have a Wonderful New Earth Year! May Unity, Love, Clarity and Truth see you through in abundance. Bringing You Joy and Harmony, Inspiration and Illumination. In all your undertakings as we Stand United as One for our Human Sovereignty.
💜Love and Blessing to you ALL💜